The Mesmerising journey through Pushkar Tourism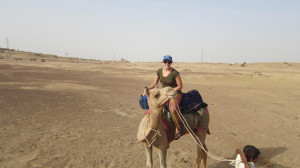 Camel Safari in Sand dunes
Before starting off with a personal journey to religiously important locations such as Pushkar, it is quite natural to be overwhelmed. Located in the north-western part of Rajasthan, around 11 km away from Ajmer, this little sleepy town is nestled near the foothills of the Aravali mountains and is considered as the King of Hindu Pilgrimages. But more than anything else, what attracted us to Pushkar Tourism was the fact that this charming small city somehow transports you back in time where you experience the bygone days, the culture and the romanticism of it. And to add to it, the Pushkar Tour could definitely not be ruled out, especially if one loves natural and wildlife photography. Its only through Pushkar Travel that you attain a certain value of self realisation and have the power to look at things in a spiritual manner.
What touched my heart, as soon as I slowly saw the Naag Parbat descending and the little city of Pushkar evolving- the enrapturing beauty of serenity in the location. I had initially heard a lot about the Pushkar Fair being the main identity of Pushkar Tourism. The cattle and the religious fair are known for their enticing fervours, with the cattle fair lauded for being the largest one of its kind spectacle. The full moon phase during October and November is known for the religious and divine atmosphere which is further enhanced with the picturesque desert scenery.
Pushkar Fair
Few of the important attractions of Pushkar Tourism included the Yoga garden, Lord Brahma's Temple, Aptaeshwar Temple, Varaha Temple, Atmeshwar Temple, Mahadeva Temple and others. The camel safari in the sand dunes was definitely worth the time. Also, I noticed that each and every temple in Pushkar had a long history and a lot of belief system nestled behind the establishment, thus, making every sacred structure inundated with a lot of hope and faith. There are few things, though, which every traveller must keep in mind before travelling to Pushkar.
To start with, the best months for Pushkar Travel are from October to March. Secondly, its is safer to book your accommodations in advance before making the choice. Also, you will definitely hit the jackpot of cultural utopia if you choose Pushkar Tour during the months of Pushkar Fair. The entire ambience will be coloured with the joy and festivity of the fair, music, camel parades and even the best of camel and horse races that will simply entice you.
So, opt for Pushkar Tourism this year and get lost in the magical journey towards spirituality and religious fervour. This King of All Pilgrimages of Hinduism would definitely create an indelible memory.