Rajasthan Heritage Hotels- A Magnet For Tourists
Brimming with royalty and luxury, the heritage hotels of Rajasthan made me feel as if I was traveling to a different world altogether. The opulent palaces, havelis and forts of this land are a heritage of traditions, royalty and luxury beautifully accumulated over the years. My visit to the internationally famed heritage hotels opened up a path for me to slip into the bygone era of Raja-Maharajas. The experience was simply overwhelming!
Some of the Heritage Hotels I Visited :
Lake Palace, Udaipur
Standing tall on the charming lake Pichola, the palace is one of the most
Lake Palace Udaipur
stunning palaces in India. Its foundation was laid in the 17th century by Maharana Jagat Singh II. Attracting even the Hollywood stars like Angelina Jolie and Madonna, the palace is managed by the Taj Group. The palace consists of several opulent chambers such as Phool Mahal, Dhola Mahal, Ajjan Niwas, Khush Mahal and Bada Mahal.
Hotel Ajit Bhawan
Reflecting the grandeur of the bygone era, this palace is India's first heritage palace resort. From the traditional interiors to the recreational activities, everything has a royal feel to it in this palace.
Umaid Bhawan Palace
With around 347 rooms, this palace is one of the largest palaces in the world.
Umaid Bhawan Jodhpur
It is the royal heritage of Maharaja Umed Singh. An interesting fact about the palace is that it always maintains pleasant temperature. It is a luxurious establishment offering kingly experience to its guests. Everything about this hotel is regal.
Devigarh Palace
Located ideally amidst the beautiful Aravalli hills, this palace is a perfect blend of the Medieval, Rajput and European styles of architecture. Built in an impressive style, the interiors of the palace boasts of beautiful semi-precious stones.
Fort Rajwada
Built in yellow sandstone, this heritage hotel sprawls over an area of 20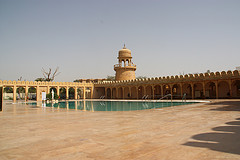 Fort Rajwada Jaisalmer
acres.Done to perfection, the interiors and furnishing of the hotel reflect the royal taste of Rajasthan.
Shiv Niwas Palace
This grand and luxurious hotel bagged several awards such as the 'Heritage Award for Excellence' and the 'National Tourism Award' for the best heritage hotel for its royalty and hospitality. Offering wonderful views of Lake Pichola, the palace is luxurious to the hilt.